Vacuum viewport

Del Mar Photonics offer a range of competitively priced UHV viewports , Conflat, ISO or KF including a variety of coatings to enhance performance.

Del Mar Photonics viewports are manufactured using advanced techniques for control of special and critical processes, including 100 percent helium leak testing and x-ray measurements for metallization control.

Windows Materials include:
Fused silica, Quartz , Sapphire , MgF2, BaF2, CaF2, ZnSe, ZnS, Ge, Si, Pyrex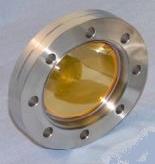 Coating - a range of custom coatings can applied - which include
- Single QWOT
- Broad Band AR
- V coatings
- ITO
- DLC (Diamond like coating)

Standard Viewing diameters from .55" to 1.94 ".
Typical specifications

CF Flange:
Material : stainless steel 304,
CF16 O.D: 1.33 " (34mm)
View diameter: 10 mm
Bake out temp: 200 Celsius degree
Leak rate <1x10-10 mbar
withstand 400-450 psi
Seal: copper gasket

ZnSe window
Material: laser grade ZnSe crystal
Thickness: 10 mm, uncoated
Surface quality 60-40

Custom vacuum viewport are available upon request.